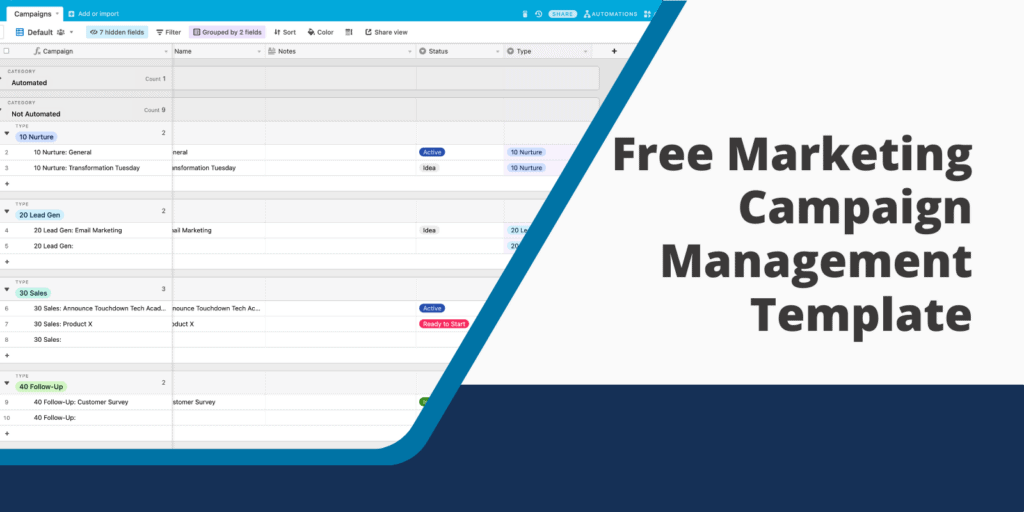 No Comments
/
Articles
/
Nov 30, 2021
/
Reuben Hochstetler
Many small business owners don't know how effective their marketing efforts are. They don't have a system for organizing their campaigns.
What Is a Marketing Campaign?
Think of a campaign like a container for specific marketing efforts. Many companies have Black Friday sales. That is an example of a campaign.
A marketing campaign helps savvy business owners measure marketing efforts accurately. They can know exactly what is working and where to increase spend and where to decrease spend.
Campaigns also help with organization and clarity.
The 5 Types of Campaigns
Nurture
Lead Gen
Sales
Follow-Up
Internal
There's a general purpose or goal for each type of campaign.
Nurture
Purpose: Help customers win and lead them gently down the path to future sales.
Lead Gen
Purpose: Get new customers or leads by giving something for free in exchange for their email.
Sales
Close the deal with a series of emails to turn a lead into a customer.
Follow-Up
Ask for a review, future re-sell, cross-sell, up-sell, abandoned cart recovery, survey, etc.
Internal
Could be getting employees to sign up for a charity event, participate in a health insurance plan, etc
Don't Continue in Your Pain 🙂
You may think it's too hard to manage campaigns like a pro—it's not. You may think it's going to be too confusing—don't believe that lie.
If you're tired of the frustration of not know what marketing efforts are working, then start managing your campaigns like a pro today!
3 Easy Steps
Copy my Campaign Management template (link below).
Write all your current campaigns in the app.
Invite your team members to join the app and use this new management system to organize your marketing campaigns.
Stop Being Confused
When you don't use campaigns as the container for your marketing efforts you will not have clarity around what is working.
Here's a screenshot from campaigns in Google Analytics. See how there's no organization in the campaign naming convention. Keep in mind the $767 revenue attributed to a campaigns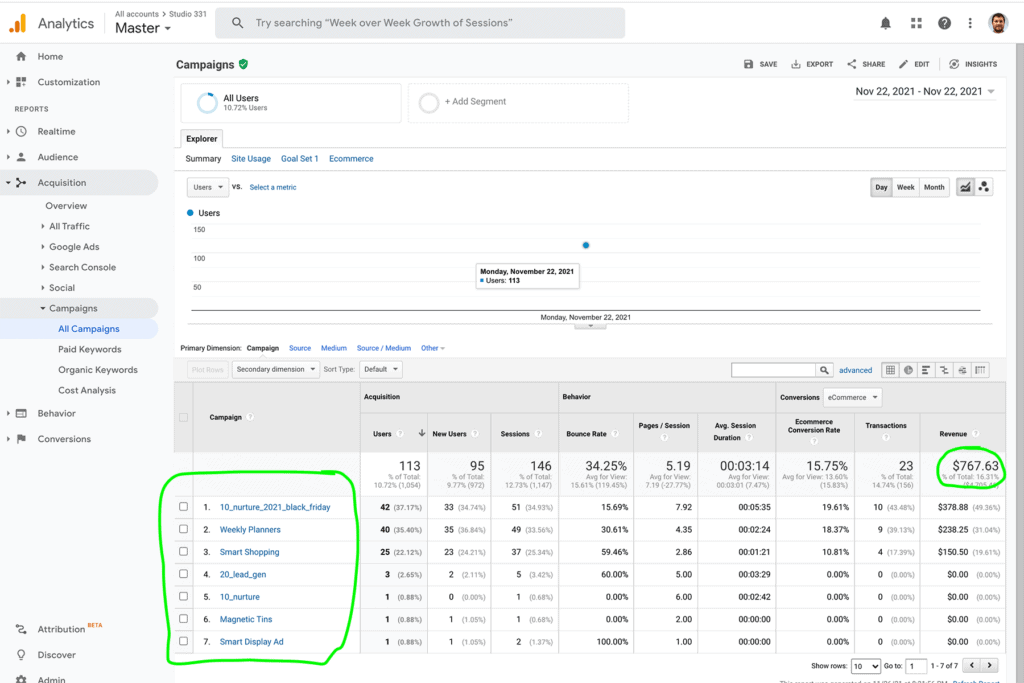 The next screenshot is for "All Traffic". Notice the $4,705 total revenue. There is going to be revenue that isn't attributed to a campaign however, in this example only 16% is attributed to a campaign. That's fishy 🐟 and is a major red flag that something wasn't set up correctly with the campaigns.
Here's a demo of my Campaign Management app.
Get the Campaign Management Template
You can manage your campaigns like a pro. Get my Campaign Management template. This app is built using Airtable. All you need is a free Airtable account.
You will be able to experience the following:
⚖️ Measure your marketing efforts
📊 Get clarity around what is and isn't working
📆 Be organized and prepared for the upcoming sales, events, and product launches